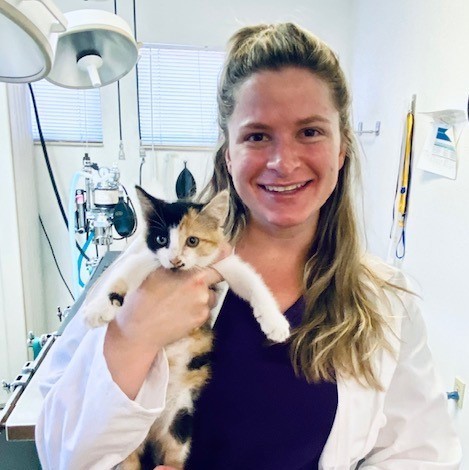 Dr. Danielle West
Dr. Danielle West had the desire to become a veterinarian from a young age when her childhood pet was diagnosed with an incurable cancer, which sparked her interest to learn more about veterinary medicine and how to help animals in need. She followed her dreams by attending the University of Florida to obtain her bachelor's degree in animal science and master's degree in veterinary forensic sciences. In 2021, she graduated from the University of Florida with her degree in veterinary medicine, specializing in small animal medicine.
After completing her studies, Dr. West relocated to the Tampa Bay area, where she began practicing at a small animal general practice. For the past two years, she has had a special interest in internal medicine, preventative medicine, and soft tissue surgery. She particularly takes pleasure in providing compassionate end of life care, and guiding owners and pets during the most difficult times, which is why she offers at home euthanasia services.
In her free time, Dr. West has recently taken pleasure in playing pickleball and home improvement projects. Her favorite thing to do is travel and dreams of going to an African safari someday. Foremost, she enjoys spending time with her friends, dog, Penny, and two cats, Calvin and GrayC.